We started to manufacture diaphragms in 1990 and entered the international market in 2007. When we first entered the international market (the picture on the left is the picture of our website before 2012). At that time, we thought our products had done very well. Therefore, we introduced ourselves in "ABOUT US" and wrote a lot of beautiful words such as profession, leading industry and so on. However, after contacting foreign guests for 5 years, I found that there are still many things that we need to improve. Then we closed our website and did not accept new orders from New customer. We began to devote ourselves to the technology of diaphragm, overcome some difficult products. Now we re-open the site to accept customers, you will get a better product.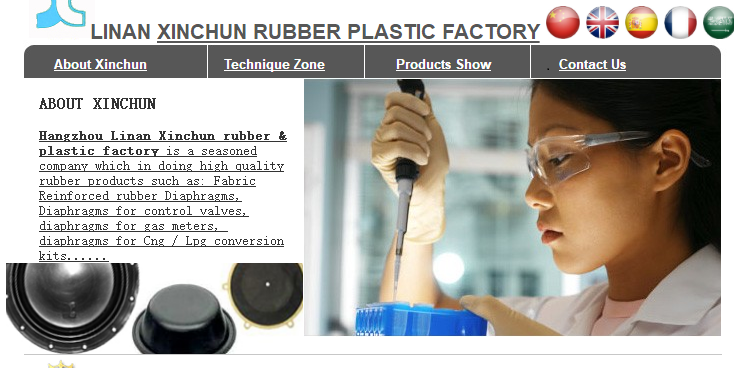 In

China, we have many peer company, no matter large factories and small factories, they all say that they are very experienced and professional in their products. In fact, you want to get good products and have a deep understanding of the diaphragms and a sense of responsibility And the product technology research and development are very concerned about the boss. The size of the factory is largely related to the output of the product and has little to do with quality.
Sharing a little story is also a client we need to thank. In 2007 we get contacted with A American customer, and then we got the initial order, submitted the sample, They thought samples was okay, to further contact and meet. However, it was stopped by the quality of a very ordinary product. But the Customer did not urge us or blame us, but encouraged us to do better, and then we spent two years on this product to provide the sample, The samples are reject and reject about 10 times before the test is passed. And it is also our highest sense of accomplishment. The main difficulty of the product is that the cloth always needs to be in the middle of the diaphragm and can not be exposed to the rubber surface. Before, Chinese customers did not regard this as a problem, and we succeeded in two years. The below photo is show the final success.

We

are a factory with 15 years of film production experience. This is what we said a few years ago.
But for now,we are still a diaphragm researcher. We are slow on the road to research, but we are hoping to go a long way far.